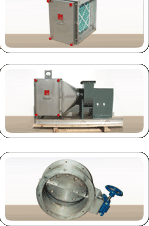 Call Us

Off: 817-421-0939


Fax: 817-421-1065
Home

| | |
| --- | --- |
| Font Size | |

CTC-A-series adsorbers

The CTC-A-series adsorber cell is a gas phase filter. A-series adsorbers are designed to maximize the open face area of the filter in order to lower the pressure drop and expose more carbon to the contaminated airstream. All A-series adsorbers are fabricated from T304 stainless steel and have a minimum mechanical efficiency of 99.9%. These filters come in both gasket and gel seal. Each filter cell is designed , manufactured, filled and tested to meet or exceed the intent of IES-RP-CC-008-84. Test reports and carbon information are available upon request.

Many different carbons are available for specific applications.


Model
Size (in)
number of beds
bed depth(in)
CTC-A-12
24x24x11.5
10
1
CTC-A-16
24x24x16
6
2
CTC-A-18
24 x 24x18
6
2